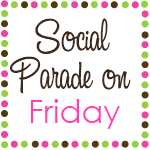 Thanks so much for stopping by, if you're here from a hop and decide to follow please leave me a message so I know where I can follow you back!
I love the weekend but I have so much to do, my mom's flight comes in Tuesday night so I have until then to have what I need done. My uncle was supposed to help DB fix his car today and forgot....atleast it's the weekend and he can go tomorrow. Poor DB has been driving on bad axles for months because we couldn't afford to fix them, I can't really say we can afford it now but we don't have a choice.
We watched the new Hell's Kitchen last night, I have to say I'm happy to see Sabrina go! She was really annoying and trying to be gangster isn't cute. I think my favorite is Jillian and I also like Nona. I love when it gets so close to the end but I hate to know I have to wait for the new season. I should probably get in gear and start doing something. I hope everyone has a great Friday and start to their weekend!